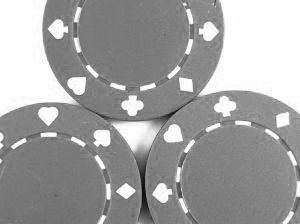 A very slim percentage of people that consider playing online poker have ever actually seen a live poker room, which makes imagining an online poker room that much harder. The very word "room" seems contradictory to what the Internet is and how it works; a room is something finite, and yet the Internet is endless. Even experienced live players must wonder how online poker sites will recreate a poker room online. The good news is that most first-time online players are pleasantly surprised by how easy to grasp and simultaneously how in-depth online poker rooms actually are.
We're sorry, we can't help you if you are looking for reviews, but we can suggest this page on a good website that reviews gambling sites, including online poker rooms.
So what is a poker room? Visually it's very much like a chat room, but with a miniaturized poker table at its center. Technically it's a complex mish-mash of gaming software. The various online poker brands have put a lot of time and money into making their rooms user-friendly, so you don't have to worry about anything but what's happening at the table.
What's the difference between a good poker room and a bad one? While every poker room offers a different combination of bells and whistles – bonuses, games, tournaments, rewards programs, player features, table design – ultimately what it comes down to is the software. A poker room's software will determine everything from how the room looks and feels to how quickly your hands play and how secure your deposits and withdrawals are. Familiarizing yourself with what each software platform offers is an easy way to avoid bad rooms altogether and to use rooms you've already liked to find other good places to play.
How can you access an online poker room? To get the most from your poker room of choice, we recommend downloading the full software package, but these days many online poker rooms also offer flash versions of their sites which make their tables accessible to Mac, Linux and even mobile users. A flash poker room can be accessed instantly as soon as your player account has been approved, but full poker room's aren't fussy either. In fact, once you sign up for an account and download a poker room's software package, you should be able to load the lobby and any number of tables in just a few seconds. The only exception to the rule is a poker room that bans players from your resident country. If this is the case, then the room will automatically recognize your IP as being from a banned country and you'll likely be kicked back to a placeholder page that advises you that you cannot play at said site.
How can you choose the best poker room? The first step to finding the right online poker room is knowing what's most important to you. For example, some of the largest poker rooms actually have fairly limited game selections. If you prefer a less popular poker variant like stud, then you'll want to be sure the room you choose hosts steady action at those tables. On the other hand, if you're strictly a Hold'em player you shouldn't have trouble finding regular action at virtually any online poker room.
Remember too what we said before about the importance of good software. A poker room that uses new or lesser known software will likely have some bugs to work through whereas a room with a more polished platform will not only offer more consistent gameplay, you can also expect more player features like rabbit cams, player notes, customizable avatars, etc. Also, don't let a big bonus lure you to the wrong poker room. While some of the best poker rooms also offer generous incentives, many of the lesser and even downright shady rooms use the promise of big poker bonuses or free cash to try to lure unsuspecting players in.