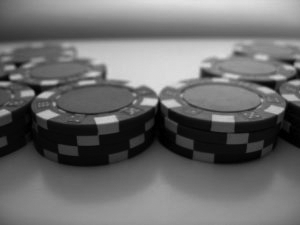 A lot of online players that would be perfectly happy to front the funds necessary to join the cash action hold off, not because they don't have the money but because they don't know how to get it to their poker room. Poker rooms do their best to make the depositing process easy, but it can still be pretty daunting if you've never made a financial transaction online before. Below we explain the most popular online poker deposit options.
Check/eCheck
If you're an old fashioned sort of fellow, then you might be most comfortable making your first deposit by check. Most online poker rooms accept both paper and electronic checks as a depositing method, but be aware that sending a paper check could delay the processing of your deposit by days or even weeks. eChecks are a little speedier but still aren't instantaneous. Checks are also one of the riskiest ways to make your deposit since you have to give your full bank account information, and for that reason we recommend that you pay close attention to your account after sending one. Depositing via check is also not an option for players in countries that prohibit banks from transferring funds for online gaming (aka the United States).
Credit Card
Credit cards are one of the most popular depositing methods for online poker if only because most of us are already so accustomed to using them for everything else. While most poker rooms readily accept all the major credit cards, you may have to call a room's customer support the first time you make a credit card deposit and/or send proof of your identity. Players that plan to deposit via credit card more than once are often required to complete charge authorization forms. This can initially slow down the depositing process, but once your credit card has been cleared your deposits will show up instantly. Credit cards are also one of the safest ways to deposit because of the consumer protection policies already in place with your credit card company.
Bank or Wire Transfer
Don't have a credit card or don't want to share that information? Are you in too much of a hurry to wait for a check deposit to clear? Bank or wire transfers are a quick and safe way to get your deposit to your poker room of choice. Assuming you live in a country where such things are allowed, you can arrange a transfer directly through your bank. If this isn't an option, then wire services like Western Union are a popular alternative. Unfortunately bank and wire transfers also aren't instant though they're usually processed within 24-48 hours. Such services may come with a fee, both from the service provider and from your poker room.
eWallet
eWallets have quickly become the preferred depositing method of frequent online players. Once you've got an eWallet account, depositing via that account is fast, safe and easy. Basically the eWallet acts as a middle man between your checking account or credit card and the poker room's processor. A lot of the eWallet companies have partnered with the poker rooms to offer this option for free. Not only that, but if you use a poker room's preferred eWallet option then you might even earn an extra deposit bonus on every transaction. eWallets are a great, anonymous depositing option for players in countries that don't support online poker. Some of the most popular eWallet companies include: Neteller, Moneybookers, Paypal, Entropay, ClickandBuy and Click2Pay.
Prepaid Card
Increasingly, a lot of online poker rooms are offering the option of using a prepaid card. Some of the rooms have their own site-specific gift cards while others accept funds that have been loaded to a third party card offered through companies like Paysafecard and Ukash. These cards can often be purchased and reloaded at live locations and are believed to be safer than credit cards or even eWallets because they're not attached to any other funds or financial accounts.